Our Promoters
I-Business Institute engaged in offering strong acumen in the management courses with the objective of promoting better education on the ongoing basis. The institute is the right combination of professional academicians in management studies that help achieve greater heights in life.
Brief Profile of the Promoters Team
Most of the promoters of IBI have rich experience in national and international level. These promoters are engaged in maintaining the uniqueness through the academic development and effective demonstration of industry skills in global settings.
Haldiram – The major manufacturer of sweets & snacks with own retail chain store and restaurants in the main cities of India. Through its various initiatives, the Haldiram's family has also distinguished a successful track in the field of education and empowering students.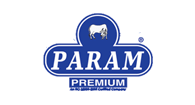 Param Dairy Products – India's one of the most eminent manufacturer, exporter, supplier, and trader of milk & milk products. They have not only garnered an excellent track record in the dairy market but also helped in optimizing education services in India through their financial contribution.
Priya Gold Biscuit – A renowned name in India's biscuits & bakery products. Their products are available all around the globe and they have also got enormous trust and faith by contributing to the education sector in India.

Uflex – The name has earned huge reputation in the packaging industry in India and overseas. They focus on building customer values, trust, and quality innovation through their manufacturing capacities, and consumer services facilities across varied sectors including education industry in India.